THE GREAT ESCAPE
THE GREAT ESCAPE TO CRU LA LIVINIERE
Cru La Livinière is a wine appellation area located in the heart Minervois, on the border between Hérault and Aude, in the fothills of the Black Mountains between Carcassonne and Narbonne. In order to make you discover its terroir , 14 wineries and estates are opening the doors to their cellars to introduce you to their vineyards.The program includes tastings, visits, and a number of other events, along with a vine and wine discovery game specifically for children ! And if you feel like having some fun and testing your knowledge, winegrowers will also invite you to take part in the 'Great Escape to Cru La Livinière game!
Informations about the game
USEFUL INFORMATIONS
Friday 5 August 2022 from 10am/12:30pm – 2:30 pm/7:00pm
Saturday 6 August 2022 de 10am/12:30pm – 2:30 pm/5:00pm
Syndicat Cru La Livinière
04 68 27 80 00
la-liviniere@cru-minervois.com
STOPOVER ESTATES
AZILLANET
FÉLINES MINERVOIS
LE CLOS DU MARBRIER
Hameau de Camplong 1 chemin de Laval 04 68 43 85 79 / 06 85 91 27 57
leclosdumarbrier@wanadoo.fr/ www.leclosdumarbrier.com
Other activities and events available: picnics available on a shaded patio, photo exhibition celebrating the estate's 20th anniversary, landscape interpretation
LA LIVINIÈRE
DOMAINE LA SIRANIÈRE
9 route des Meulières – 06 12 72 12 98
domaine@lasiraniere.fr/www.lasiraniere.fr
Other activities and events available: aroma game, a vertical tasting of 9 vintages and a visit to the winery.
CESSERAS
DOMAINE COUDOULET
4 rue des caves hautes 04 68 49 35 21
domainecoudoulet@gmail.com / www.domainecoudoulet.com
Other activities and events available: tasting of wines in the maturation phase (in barrels or tanks) and a tasting of single varietal wines.
SIRAN
CLOS CENTEILLES
Chemin de Centeilles – 04 68 91 52 18
contact@closcenteilles.com/www.closcenteilles.com
Other activities and events available: tour of the estate and an introduction to wine tasting (by reservation 48 hours in advance)
A MAP OF THE ESTATES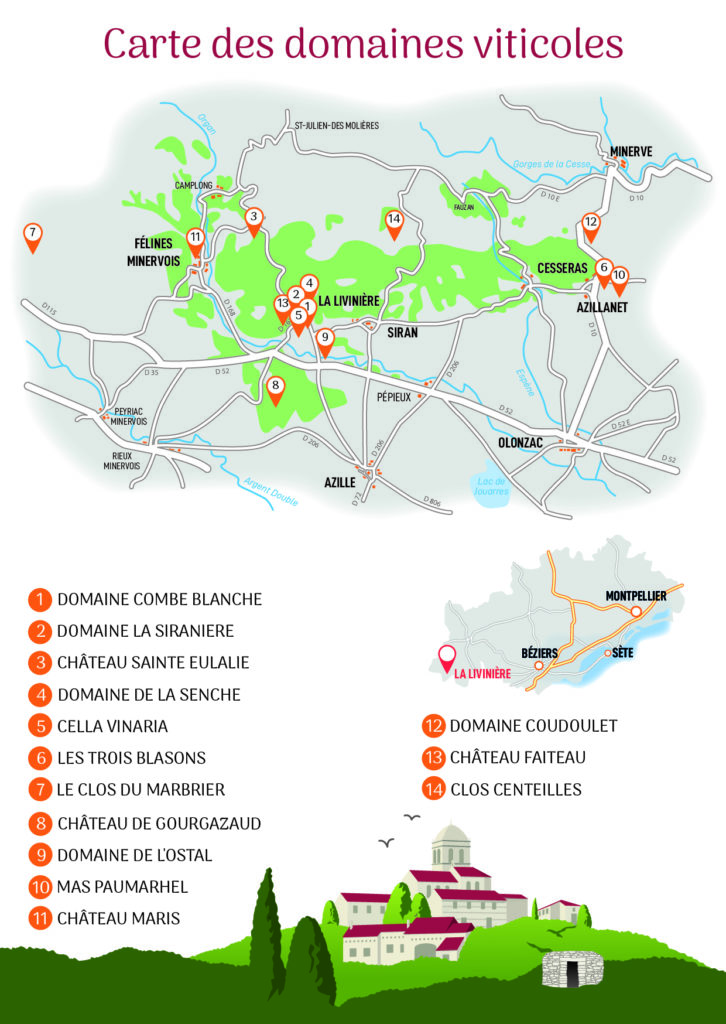 SPECIAL CRU LA LIVINIERE EVENING EVENT
SATURDAY 6 AUGUST From 18H00 To 20H30
Minervois Wine Centre – HOMPS on the banks of the canal du Midi
As part of its programme of winegrower evening events, the Minervois wine centre is hosting an evening event focusing on Cru La Livinière. There will be wine tastings with the winegrowers and the draw of the Great Escape to Cru La Livinière game (Free admission).
Maison des Vins du Minervois – 35 Quai des tonneliers 11200 Homps
+33 4 68 91 29 48 – maisondesvins@cru-minervois.com
www.maisondesvinsduminervois.com
ENTRY REQUIREMENTS FOR TAKING PART IN THE GREAT ESCAPE TO CRU LA LIVINIERE GAME
Would you like to take part in the Great Escape competition and get a chance to win some great Cru La Livinière wines*? You will need to:
• Meet at least 2 estates located in 2 different villages, among the 15 estates taking part, on 5 and 6 August.
• Take a test on Cru La Livinière, at each estate visited.
• Unravel the mystery of the Cru legend using clues given to you by winegrowers.
• Hand in the reply form at the final estate visited or at the Minervois wine centre in Homps or online at: www.cru-la-liviniere.com
*Worth €300
ENTRY FORM FOR THE GREAT ESCAPE TO CRU LA LIVINIERE GAME
To participate complete the following ballot and drop it in the domain last visited:
Download the entry form
Or fill out the form below:
But what is the legend of the Cru?
My land is linked to a mountain called Montagne Noire. Geology tells us that the Mountain Noire was formed in the tertiary era during the formation of the Pyrenees. But a legend attributes it to the action of a magical being. What is the name of this magical being?